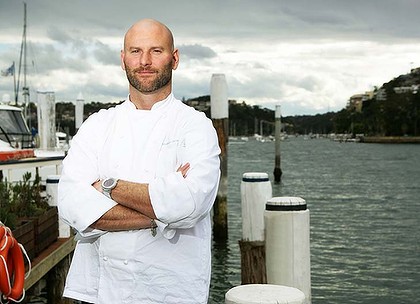 Alessandro Pavoni: water views & restaurant visions
Today, he is co-owner of Ormeggio at The Spit, and Via Alta (previously High Street Bistro) in Willoughby – and he has recently opened a more casual separate dining venue next to Ormeggio – which will also service the Middle Harbour yachting & boating crowd. Alessandro Pavoni began his career in northern Italy, in Brescia, working at restaurant Carlo Magno. Following this he had rewarding stints in some Michelin-starred venues – La Rotonde in France and Villa Fiordaliso on beautiful Lake Garda. Looking for different horizons he worked at the famous Restaurant Lido in exotic Bermuda, before relocating to Sydney in 2003. He took up the role of Executive Chef at the Park Hyatt in 2005, finally opening his own dream restaurant, Ormeggio in 2009. This has been a Hatted restaurant ever since. Then in 2013, Alessandro joined forces with renowned and respected restaurateur Bill Drakopoulos. Together with Head Chef Victor Moya, the trio is excited about their new Italian "street food" venue, Chiosco by Ormeggio, ready to provide meals, takeaway and catering to local boaties and Sydney diners at large.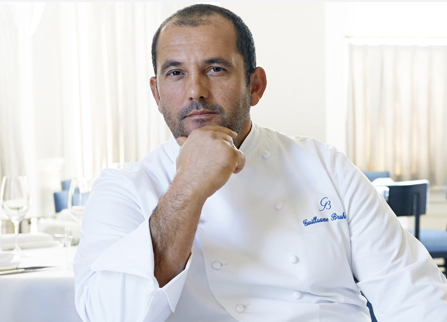 Guillaume Brahimi: in the French style
French-born Guillaume Brahimi is one of Australia's most respected chefs, and has operated some of Sydney's most acclaimed restaurants. In France, after a two-year apprenticeship, 19 year-old Brahimi grasped the golden opportunity to work with master chef Joel Robuchon in his "Jamin" restaurant in Paris. In just 4 years here, he progressed to the position of Sous Chef. Relocating to Sydney, he opened his first restaurant, "Pond" and then ran "Bilson's" at Circular Quay, later renamed Quay – where he earned Three Hats from the Good Food Guide. In late 2001, Brahimi won the prestigious contract to take over the flagship restaurant at the Sydney Opera House, opening in November 2001 as Guillaume at Bennelong. The restaurant went on to win most major accolades in Australian food; it held Three Hats in 2007 and 2008. In 2013 Brahimi and his team regained their three-hat status in the 2014 Herald Good Food Guide, and Brahimi was awarded Vittoria Legend Award for his outstanding long-term contribution to the restaurant industry. Brahimi and his acclaimed team opened their new restaurant, Guillaume in August 2014 in Paddington. In 2009 Brahimi had formed a partnership with Crown Entertainment Complex (Melbourne) and opened Bistro Guillaume, which has held one-hat since 2012. In the same year, Brahimi opened his second Bistro Guillaume in Crown Perth, which also won one-hat in 2013. His partnership with Crown Melbourne strengthened when he was appointed Culinary Director for the next three years.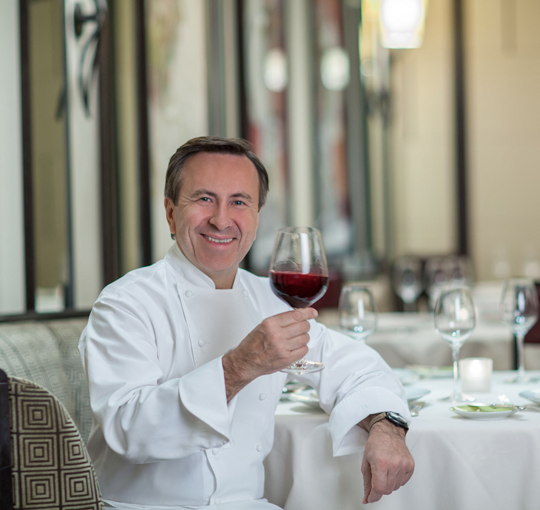 Daniel Boulud: French cuisine to the world.
Why settle for just being a top-rated chef, when you can become an international brand and a world industry? Daniel Boulud is Chef-Owner of 7 restaurants in New York City and 6 more in national and international locations. Raised on a family farm in France, Daniel may not have had all this in mind when he arrived in the US in 1982. However, he remained inspired by the rhythms of the seasons - and menus driven by fine ingredients. The success of this approach is reflected in his amazing rise, step by step, in just over 30 years. He has become renowned for the contemporary appeal he adds to soulful cooking, rooted in French traditions. A major strength in all of this has been his ability to apply his expertise with flexibility, not only in different countries, but across a wide range of venues and cuisines: fine dining, kitchen-and-bar formats, upmarket cafes, charcuteries and Mediterranean styles. Along this colourful route, Daniel Boulud has earned Michelin stars, membership of the elite Relais & Châteaux body, several James Beard Foundation awards - and the ultimate accolade of his country of origin, Chevalier de la Légion d'Honneur from the French government. Pretty good for a country boy!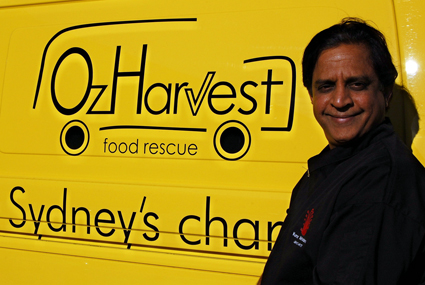 Master of Indian Cuisine – Charity Chef
Around Sydney, there must be two generations of diner-fans of Indian chef, Kumar Mahadevan. Following his apprenticeship with India's renowned Taj Hotels, Kumar opened a restaurant in Australia. The popular Abhi's at North Strathfield, which this year chalks up 25 years of successful operation. Today, Kumar is also proud Owner/Chef of a new Indian legend, AKI's at Woolloomooloo Wharf. Understandable pride, with awards of the prestigious Chef's Hat and a Wine Glass fom the SMH Good Food Guide 2015. That makes a stunning 4 years in a row for AKI's to receive such an award. Kumar is not a man to rest on his laurels – he keeps VERY busy. 2010 saw him announced as Indian Ambassador for Ozharvest, the charity food distribution group. In February this year he'll again undertake a role he enjoys - running a class at the Sydney Seafood School. In March, he's back for Ozharvest, with other leading chefs, overseeing the Ozharvest CEO Cookoff. This sees senior execs from major companies getting down and messy in the kitchen, competing in this fun charity fundraiser.
This lady's place is in the kitchen
Giada De Laurentiis - despite a privileged background as the granddaughter of famed film producer Dino De Laurentiis - has chosen to run her own race, and very successfully. Giada grew up in a large Italian family where the culture of food was evident daily, and she spent lots of time in family kitchens and restaurants. Giada undertook professional training at Le Cordon Bleu in Paris, specialising in cuisine and pastry. This was to lead to professional appointments at the prestigious Ritz Carlton Fine Dining Room and Wolfgang Puck's Spago restaurant in Beverly Hills, then a regular role on the national "Today" TV show. Next came her own programme on the powerful Food Network, hosting her Emmy Award-winning, daytime cooking show, "Everyday Italian". A bright and popular chef, Giada De Laurentiis has built further success through several best-selling cookbooks and her popular kitchenware and food product ranges. SydneyRestaurants.com will keep you in touch with Giada's glittering career.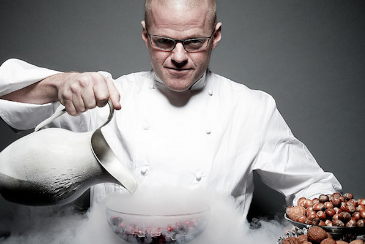 Heston here in 2015!
Australia will welcome colourful chef, Heston Blumenthal and his Fat Duck restaurant next year. Heston closes the Fat Duck, his three-Michelin starred UK restaurant, at Christmas, to move the entire operation to Melbourne for six months. Australian diners will get the chance to experience his "edible science" and cuisine showmanship. Heston will bring his entire British staff and parts of Fat Duck to Crown Resorts in February 2015. Apparently, the Melbourne restaurant will seat 45 people and have a staff of around 70. Blumenthal's first restaurant outside the UK has been two years in planning. "I love Melbourne, I've been coming here for quite a while, and one of my close mates, Neil Perry, has restaurants here." Local interest in scoring a booking at the colourful Fat Duck is so high, that a ballot is being run to establish a very exclusive guest list. SydneyRestaurants.com will be closely watching developments.