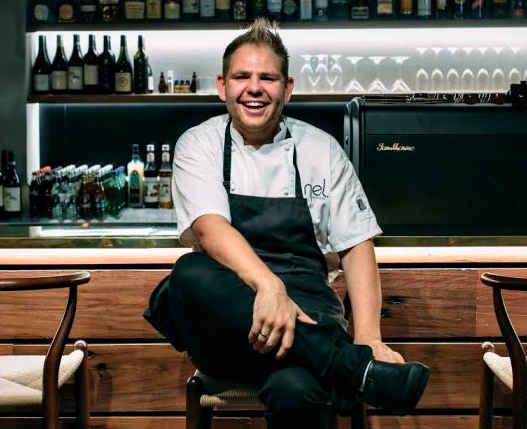 Twenty-something Head Chef Nelly Robinson
UK born chef Nelly opened his very own degustation only restaurant nel. restaurant in 2015. It's been (deservedly) winning accolades ever since. Nelly is taking the old fashioned, stuffy degustation, modernising it and introducing it to a whole new audience. At a time when new Sydney restaurants seem to be trending more towards casual, share plate dining, newcomer nel. restaurant is a breath of fresh air. Fine dining is the name of the game at this underground bunker. In fact it's degustation only. Bold move. Twenty-something Head Chef and Owner Nelly Robinson is behind the concept and he's injected his young flair into the idea of fine dining. Forget the stuffy atmosphere of some fancy establishments, the decor at nel. restaurant can best be described as industrial chic, whilst they still manage to retain a cosy inviting charm. Exposed brick, concrete floors and soft woods complement the centrepiece open kitchen. It is pared back and relaxed. Your food choices are easily taken care of with one set menu offered. Though dietary requirements can be accommodated and a vegetarian option is available. The menu usually changes monthly according to the best produce of the season. One word of warning. Be prepared to be wowed by the food. Every dish will be spectacular. Presentation, flavours, texture – it's all there and then some. Of course, there is an option of matching wines should you be so inclined, which we suggest you should be. However, should you prefer to go by the glass or the bottle or even to indulge in a cocktail you won't be dissapointed. Accompany all this with slick service and we think they've hit the nail on the head. In fact, we'd even go so far as to say they've knocked it out of the park.
2016 Number 1 Chef Top Restaurant Chef Australia
I have never wanted to be anyone else. Ihave never wanted to do what anyone else is doing. I just want to be the best I can be.When it comes to trends I do not follow them. Good cooking is timeless. You just do your own thing and be happy with that. I never worry about what everybody else is doing.I normally do not have food vices but the last four months Ihave been really bad. It would have to be sweets of any kind. Lollies, dessert, biscuits, if there is something sweet around I will have a crack at it. It is tradition at Attica that if you work the late shift you bring these treats in that wed never cook with. I have really got to stop that.I went to a small Chinese restaurant in Geelong called Wai. The chef has come out from Hong Kong four years ago and has opened his own restaurant. He is like a proper, staunch and the food is absolutely delicious, completely off the radar. Nobody has ever heard of it. I go there probably once a week. I went there by mistake and it blew my mind how good it was. You are talking dishes that are 10 or 12 dollara and he does this dish which is fried milk and seafood which is absolutely delicious with lobster and noodles in it. I am relieved I do not have to drive to Melbourne to get quality Cantonese food.
Luca Ciano: Personal recipe favourites from a master Chef
NEW BOOK. International chef, Luca Ciano, has brought together the freshest, in-season produce to create signature Italian dishes that indulge the sensations. Light meals with tomato and basil for those hot summer days - heart-warming, classic Italian dishes using fennel and olives in winter - the tastes of mushrooms and chestnuts in autumn - and the freshness of asparagus and artichokes in spring. Be inspired by the recipes that will bring a fresh excitement to your cooking. From field to plate, discover seasonal cooking with fruits, vegetables, meat and fish when in season and at their best in "Luca's Seasonal Journey." Luca Ciano was born in Milan and raised by an amazing family from whom he inherited his passion for food and respect for people. His career to date includes working in the most prestigious international dining venues and wide experience on the Australian restaurant and hotel scene. He has been a regular contributor to Australian and international cooking and lifestyle publications such as BBC Good Food Magazine from 2010 to 2013, where several of his signature Italian regional dishes were published on a regular basis. Luca now consults to restaurants, magazines and Italian brands in Australia and around the world, providing guidance and assistance in their daily operations.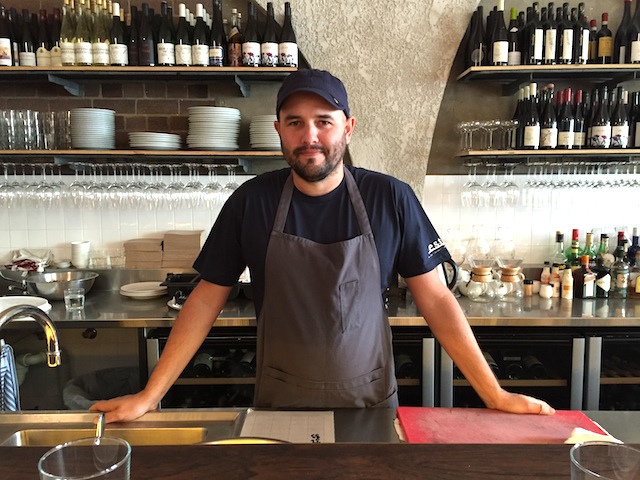 Mat Lindsay, Ester: wins Two Hats again!
Chef Mat Lindsay, and his great crew at Ester Restaurant, have kicked off 2016 in a positive frame of mind. The popular restaurant in Chippendale has retained the Two Hats they were awarded last year. Opened only in 2013, Ester under Mat did not take long to make an impression, being named Best New Restaurant in 2014, and receiving an immediate Two Hats award. Matt grew up on the mid north coast in Wauchope, then moved to Sydney in 1999 to initially pursue a career in graphic design. Fortunately for Sydney diners, he started working in the kitchens of Rockpool and has been cooking professionally ever since, climbing the cuisine ladder to bigger and better things. Before opening Ester, he gained further and valuable experience at Berta restaurant, then at 121bc Wine Bar – graduating to Head Chef at Billy Kwongs in Surry Hills. Mat also notes that extensive work and travel through Europe and Asia helped greatly in growing and expanding the menu and kitchen skills he now brings to diners at Ester.